This still isn't finished but I'm quite happy that I've got so far all ready…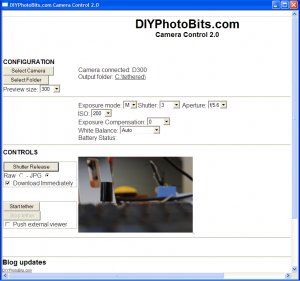 Now I can control from the PC which exposure mode the camera is in (M, P, A, S) — but only on the D300, I suppose sensibly it is impossible to control that on the D40 where it is set by a physical dial.
But presuming the mode allows it I can then control aperture and shutter speed easily.  ISO, and WB are easy to set — but I can't tell what the initial settings of the camera are when it is plugged in which is a bit annoying.
Still have some work to do on the Exposure Compensation control as well.  And generally on the layout of the controls to make them fit together in some sort of sensible way.
But look out soon for this new version — and let me know what other controls or info you'd like to see in here.