If you find that DIYPhotobits.com Camera Control crashes — then you may be suprised to find it does not appear in the Windows Task manager, so you can't end the task as you might another application.
Well actually you can — but you need to know that it is actually an "HTA" which is a type of Internet Explorer script.  So to kill it you need to terminate a process called MSHTA.EXE which is the container for these scripts.
So press Alt-Ctrl-Del (or Windows-K) to bring up the Windows Task manager, click on the Processes tab, then find and click on mshta.exe.  You may then end click the End Process button.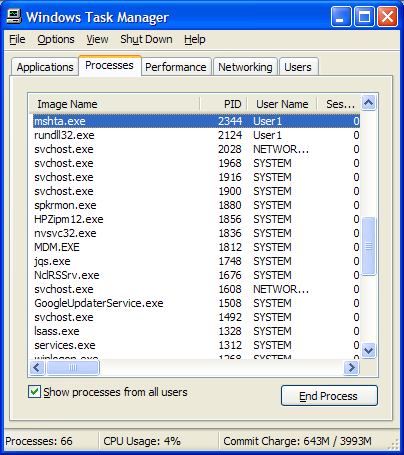 You do not need to reboot or anything else, you can now run the script again.
If this happens to you please do let me know the situation (XP/Vista, what camera, and what you were doing right before the crash) so hopefully I can improve the software to avoid it next time.
Thanks.